Iraqi troops invaded Kuwait in August 1990. On January 17 the following year, a US-led multinational force began an air attack. Thus began the Persian Gulf War. Iraqi casualties by March 3, when the ceasefire agreement took effect, exceeded 100,000, including civilians. In southern Iraq, the primary battlefield, US and British troops used a new radioactive weapon-penetrators made of depleted uranium (DU). The powerful impact of that new weapon and an array of other toxins is still emerging. Soldiers, civilians, and children are losing their lives to leukemia and other related disorders. The economic sanctions against Iraq, in place since 1990, have aggravated shortages of medicines and other supplies, and the situation grows steadily worse.
(Story and photo by Akira Tashiro, senior staff writer)
June 18th, 2000

1. Radiation Treatment
Two facilities in the entire country1
Some die while waiting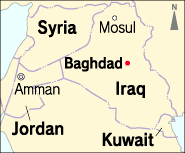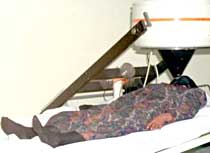 This woman is being scanned to pinpoint the location of her thyroid cancer. The machines are too old to locate bone cancers. (Baghdad)
By car, Baghdad, the capital of Iraq, is about 900 kilometers (563 miles) east of Amman, the capital of Jordan. After arriving, I completed the procedures and received permission to cover this story from the Culture and Information Ministry. The next day, I visited the Institute and Hospital of Radiology and Nuclear Medicine.



Waiting three months for treatment

"As you can see, we are always full of patients. To receive radiation treatment, they have to wait from one to three months." The portly hospital director Dr. Taha Hameed Al- Askari (41)=pictured= stopped occasionally to speak to patients in the first floor hall as he headed for the conference room next to the director's office.
Iraq has only one other hospital with radiation equipment. That one is in Mosul, far to the north. More than 80% of all radiation treatment is performed in this hospital.
"In Mosul, they have one machine. Here we have four. That's why patients from all over the country come here. Of those, forty to fifty percent come from the southern battlefields."
Taha says that trend has grown stronger, especially in the past few years. "We believe we are now seeing the effects of the DU munitions the Americans and British used. I'm afraid our patients will continue to increase. Unfortunately, we can't take care of them with this old equipment." This is his greatest frustration.
Guided by Qasim Falih (52), an oncologist who had joined us, I toured the treatment rooms.
"Of our four machines, the comparatively new one we got from France in November last year. Even this one is far inferior to the machines being used in advanced nations."
The "in treatment" lamp and buzzer go off. We open the heavy door and go inside. A woman who has just received treatment for a brain tumor is coming down from a large white casing.



Only 80 patients a day
The other three machines are twenty years old, and even I couldn't help seeing them as antiques. One was specifically assigned to breast cancer. One was for skin cancer. They fire up before eight in the morning and work steadily until midnight. With all four machines in operation, the hospital can treat 80 people per day. Of these, ten or twelve every day are new patients.
"Our machines are so old the gamma rays from the cobalt 60 radiation sources are too weak. Treatments should take place instantaneously now take fifteen to 30 minutes. It takes that long to apply enough radiation," Qasim explains.

Hard to get iodine 131
The machines are so old that when one breaks down, no spare parts are available. There is also a lack of qualified technicians to make the repairs. "When that happens, our efficiency goes way down."
This hospital, which treats only patients with solid tumors, has recently seen a dramatic increase in brain tumors, malignant lymph tumors, thyroid cancer in children and breast cancer in women. But the iodine 131 required to treat thyroid cancer is a "radioactive substance" and, like the machines themselves, nearly impossible to get because of the economic sanctions. Many patients die waiting for treatment.
"Right now more than 120 patients are waiting for radiation treatment. We are doing the best we can, but under these conditions we are unable to help most of them." Taha, who had joined the tour, spoke with profound regret.
Poor equipment and too little of it, poor access to recent scholarly literature and medical journals, closed out of international conferences...
"We know that treatment methods are advancing every day, but we are cut off from new machines and knowledge by economic sanctions instituted ten years ago. First they spread radiation around and expose all these people, then they close the door to treatment. Is this acceptable?"
Taha calm tone belies the emotion behind this question.