June 23rd, 2000

6. Epidemic among Doctors
Even colleagues getting breast cancer
Worried about the future of residents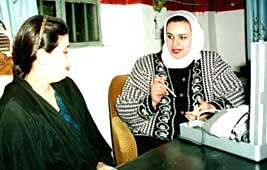 "Your blood pressure is up a little. Better take it easy." Dr. Nadia Yusuf speaking gently to a patient.
The tiny gynocological clinic of Dr. Nadia Yusuf (33) is in the Al Hayania district of western Basra. Relying on the name "Nadia" I entered the clinic of a woman gynocologist by that name in a building downtown. "Oh, that Nadia. I know where she is," I was told. With help from the first Nadia, I arrived at Nadia's clinic just before closing.



Examinations by lamplight
Entering the one-story house, I found two women waiting to be examined in the 10 by 10-foot waiting room. Nadia was conducting an examination in a back room, but when I explained the purpose of my visit, she graciously agreed to an interview even though I had no appointment.
Because of a power outage, she was working with the light of a gas lamp. The waiting room was lit by an oil lamp, which is not as bright as gas. That was the only other light.
In Iraq, nearly all doctors work at national hospitals from early morning until about two pm. Beginning about 3pm, they start working with their own patients at their private clinics. This is necessary because the salary is so low they can't live on what they get from the hospital. The salary of the average government employee is 3,500 to 5,000 dinares (about $2 or $3). Officers also stop work about 2 pm and sell merchandise out on the street or do other jobs to make extra money.
"Sorry to keep you waiting." Nadia, who had just finished the examination, offered me a chair with a smile on her finely featured, broad face. She had an office about 6 feet by 6 feet and several chairs. Other than her stethoscope and blood pressure gauge, there was almost no sign of medical euqipment.
"I am extremely worried, not only about my own body but about what is going to happen to the health of the people of Basra and the battlefield areas of southern Iraq." In fluent English she began telling me why she is worried.



Bomb in the courtyard of the hospital
"In June last year, when I was pregnant with my second child, I felt a lump in my right breast and got a biopsy. It was malignant. I received surgery on July 1. I gave birth to my second daughter one week later. I've been on chemotherapy for the past six months." During most of that time, of course, Nadia was taking time off from the hospital and her clinic.
"I went to Baghdad in early December and received radiation treatment for one month. There's only one hospital that can give that treatment, so I had to wait quite a long time. When my body recovered, I started to work again, but that was quite recently."
When she received the diagnosis of cancer, she was filled with despair. Now, having returned to her work and feeling quite normal except for some stiffness in her right arm, she has new hope. And yet, "This past year or two four women doctors right around me have come down with breast cancer. This is extremely strange. We were all together in med school, and..." At this point, thanks to early detection and early treatment, all four are back at work.
At the time of the Gulf War (1991), Nadia was 24. She had gone straight from med school to an internship at the Central Teaching Hospital in Basra. Two missiles struck the courtyard of the hospital. Four people were killed. Bombs fell near her home in Basra as well.



Unable to abandon her hometown
"Of course, it's not only doctors getting breast cancer. At the hospital, at this clinic, it's amazing. I'm seeing young girls in their 20s. Ovarian and uterine cancers are also increasing."
Nadia pointed out that she and her colleagues detected their cancers early because they are doctors. Most women have little or no information about breast cancer and they have no extra money. By the time they come to the hospital, it's usually too late. She is gravely concerned that if the city does not quickly begin a massive program of education and mammogram testing, the deaths will increase.
"The environment in bombed areas in and around Basra and elsewhere in southern Iraq remains contaminated by depleted uranium (DU) and chemical toxins from other bombs. When I think about what we are taking it into our bodies with the air or with our food, I really am very worried about my two daughters. But I can't leave my hometown and the people I love."
Even when her husband (36), an army officer, leaves town on assignment, "I can't follow him," says Nadia. Her attachment to her work and her hometown keep her struggling with intense anxiety about the people's health and environment.