May 21st, 2000

7. Family Fighting Illness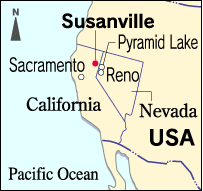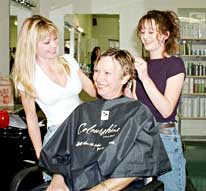 Tammy (left) and Marleen work on a customer's hair. After surgery to remove a brain tumor, Marleen is unable to work long hours. (Susanville, California)
Sick Wife and Daughter
Suing the military to halt explosions
Sisters Tammy Pastor (34) and Marleen Norvell (30) run a beauty salon in the main commercial building in downtown Susanville, California. They are quite skillful at cutting hair and pleasant conversation.



Needs a cane to walk

In February 1998, Marleen underwent surgery at a hospital in Reno, Nevada, to remove a brain tumor. The damage that accompanied her surgery means she must take drugs for the rest of her life to make certain organs work normally.

While the two sisters served customers, I sat in a room behind the salon interviewing their parents Jack (59) and Sally Pastor (57). Five years ago, Sally's fingers began to curl inward and she experienced severe joint pain. Today, she has difficulty walking without a cane.

"Before I got sick I used to roller skate and play golf. I was so healthy people were jealous of me." Sitting in a chair, she looked at the stiff, curled hand on her knee. "After a bunch of tests, they found high levels of uranium."

The Pastors and their four children moved to this area from the outskirts of Sacramento in 1981. Jack was transferred here by his employer, a telephone company. "The kids were surrounded by nature. We were all so happy. We really thought we had come to God's country."

Jack retired in 1991. He became a successful developer, building homes and other buildings around the town. In 1987, he was president of the local Chamber of Commerce. In 1993, when rumors arose that the Sierra Army Depot in Lassen County might be closed, he went as president of the county Economic Development Commission to the depot to make a strong appeal for its survival.

"More than a thousand people right around here were working at that base. I was thinking about economic development and securing jobs, but now I wonder what in the world I was doing. I am ashamed of myself for unknowingly sacrificing the health of my family and other residents."



Listening and beginning to question

In 1995, Jack began to question the role of the military facility. During live TV coverage of Congressional hearings about the diseases afflicting the Gulf War veterans, he heard military officials testify that toxic substances from explosions can travel over 40 miles (64 kilometers) in the smoke.

It is less than 30 miles (48 kilometers) from the disposal site to Susanville. Furthermore, the town is at the bottom of a bowl surrounded by high mountains. Smoke from explosions floats into town frequently.

During his own investigation targeting the most obvious conventional weapons, he learned that the explosions were releasing lead, mercury, beryllium-a total of eight carcinogenic substances. In addition, the facility was disposing of DU, a highly toxic heavy metal that carries the additional danger of radioactivity.

Lassen County has nearly twice the state's average cancer rate, including leukemia, brain tumors, lymph cancer, and breast cancer. And a conspicuous number of people have the same autoimmune symptoms as Sally.



Doctor: "You're in danger."

After work, Marleen joined our conversation. "The population of Susanville is only 15,000, but my doctor is always operating on people from here with cancer. She told me, 'Living in Susanville is too dangerous. If I were you, I'd get out quick."

Tammy, who is single and has had high levels of heavy metals detected in her body, plans to move to a safer place in the near future.

In mid April 2000, I received an e-mail from the Pastors. Jack's 800-member Residents Against Munitions had joined forces with the Pyramid Lake Paiute Tribe, who live downwind of the facility, and with the Rural Alliance for Military Accountability headed by Ms. Grace Potorti. They filed suit on April 13 to force the army to halt open-air destruction of obsolete weapons. "And we're trying to get an expert to help us do a more detailed study of the impact of DU." Beneath the magnificent, expansive Sierra Nevada Mountain Range, the struggle of the people of Lassen County to recover their safe and beautiful environment has just begun.
=Part3 end=
Give us your feedback:
FAX: 81-82-295-3800