April 7th, 2000


4. A delayed casualty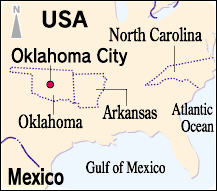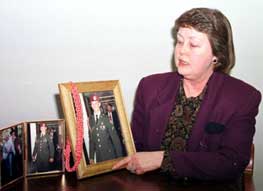 Looking at pictures of Jason taken when he was well,Gina Whitcomb shares her memories. (Oklahoma City, Oklahoma)




Eight years of pain
Suicide before learning the cause


"I've only recently begun to recover my peace of mind. But at night,..." Speaking to me in a room at the bank where she works, Gina Whitcomb (51) gazes at a picture of her second son, Jason, whom she lost in September 1999.

We're in Oklahoma City, the capital of Oklahoma. The bank where Gina works is located in the middle of this city of roughly 600,000.

"On August 6, 1990, Jason, a new high-school graduate, left home to enlist in the army. I could never have guessed that within a year this 17-year-old son would be unable to walk without crutches."


Drastic physical changes in a few months

Assigned to an airborne unit, he went to Saudi Arabia in January 1991. Gina and her company-employee husband Jim (55) saw their son again in early April, when he took home leave. "Even then, he was complaining about headache and joint pain, but he didn't look any different," Gina recalled.

But, when Gina and her husband visited Jason at his North Carolina base in mid-July, they couldn't believe their eyes. Formerly a muscular 175 pounds (about 79kg), his six-foot (183cm) body was wasted. He walked gingerly, as if protecting his legs. The change in a little over three months was dramatic. Over time, his symptoms-hip and leg pain, gastrointestinal disorder, acute headache-progressively worsened. In April 1992, he was discharged before his four-year term of service was up.

"At the time we had no idea what the reason was. We didn't hear the term 'depleted uranium' until much later."

According to Gina, Jason's unit's main task was to destroy the munitions warehouses that the Iraqi army had erected in the desert. They were believed to contain chemical as well as conventional weapons. They entered contaminated zones scattered with Iraqi tanks and trucks destroyed by DU bullets. They were forced to take pyridostigmine (PB), an insufficiently tested antidote to chemical weapons.


"It's stress."

"He first went to the local veterans' hospital in May, a month after discharge. The doctor pronounced, 'He shouldn't have this sort of serious illness at his age,' and started him in psychological therapy. 'Stress, stress,' that's all they said then.'"

Psychological therapy failed to help Jason. In 1994 he began using a wheelchair. He also showed extreme chemical sensitivity. He began avoiding people. That year, he married Shawn (26), whom he had known since high school. The couple moved to a wildlife reserve in the adjoining state of Arkansas.

"The scenery was beautiful, the air was clean, and he really enjoyed volunteer activities." He also participated in blood testing and other research programs around the country hoping to learn something about his illness.


Suddenly, at age 26

Jason, who had been so positive, suddenly died from a gunshot wound on September 24, 1999. He was 26 years old.

"He didn't leave a suicide note, so it's possible that it was an accident. But the inquest called it a suicide."

The Whitcombs are convinced that if Jason committed suicide, it was because Jason's condition, after eight years of headache, arthritis, stomach pain, and other ailments had become unbearable. After his death, they sent tissue from most of his organs to research organizations.

"It's too late for Jason and 10,000 other veterans of the Gulf War, but if it will help identify the cause..."

If the cause is found, maybe a treatment method will be next. But until that happens, the number of "delayed casualties" like Jason can only increase.