May 19th, 2000

6. Sierra Army Depot Weapons Dump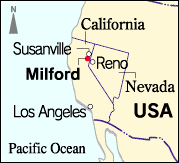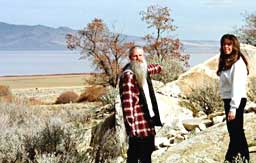 Paul Beach and Kinberly Raymos point toward the Sierra Army Depot on the other side of Honey Lake. (Milford, California)
Volume disposed 20 times greater than that used in the Gulf War
Worry about explosions
Heading northwest from Reno, Nevada, about thirty minutes after crossing the border into California, I arrive in Milford, a tiny town on Honey Lake. Paul Beach (51), who I had contacted in advance, and his partner Kinberly Ramos (46) are waiting in their jeep by the side of the road.

"The first time you come it's easy to miss the driveway to our house." Paul has a long beard and his manner is very friendly. Milford has a population of 90. Paul was an investment broker longing for the peace and quiet of nature before moving here from San Francisco in 1981. Kinberly has been living with him for six years.



No peace and quiet

After climbing the mountain road for about a hundred meters, Paul and Kinberly got out of their car and walked to a high cliff. They pointed into the distance. "See? On the other side of the lake, right in front of us is the Sierra Army Depot. That is what keeps us from having peace quiet around here. Recently, we've also learned that they're disposing of depleted uranium (DU) weapons."

According to Paul, this military facility takes in old or excess weapons and ammunition, and every year explodes or burns over 39 thousand tons of it. This has been going on for over 30 years, but the frequency and magnitude of the explosions has increased significantly since 1995, when other bases around the country were eliminated.

"We are 12 miles away (19.2 kilometers) and we didn't really care when it was just a matter of some black smoke. But in October 1995, there was this tremendous explosion. Our house shook hard, like a big earthquake."



Cracks in the walls

Their house was another two kilometers (1.25 miles) up the mountain. When we arrived, I saw obvious cracks in the walls. "We've spent more than $10,000 on repairs. We also spent three years in court, but the judge sided with the military," Kinberly reported with frustration.

A bad day means as many as 28 explosions. Beginning in 1996, Paul and Kinberly began videotaping the smoke as it climbed into the sky. This helped them see that the roiling mushroom clouds were dispersing in all directions.

"These explosions are spreading contaminants all around here. There's no doubt about that." After the court ruling, still doubting the explanations offered by the military, they began communicating with an environmental activist in Reno. In October 1999, the activist sent them a long fax, copies of documents by which the Nuclear Regulatory Commission (NRC) grants permission to dispose of DU at the Sierra Army Depot.

The expiration date on the oldest of those documents was September 30, 1981. It stipulated a maximum of 2,257 tons of DU. In later contracts, the amount increased to 5,000 tons. The one in effect until March 31, 1997, allowed 2,520 curies (about 6,500 tons) of radioactivity. This figure is 20 times the 320 tons that the American and British troops were said to have used in the Gulf War.

Paul immediately presented these documents at a Lassen County Board of Supervisors meeting held in Susanville. Present at that meeting were five supervisors, staff of the state and county environmental protection departments, and about 50 residents. None knew anything about such contracts.



High incidence of cancer and other disorders

"They were all shocked. Some of them knew nothing about DU." Rates of cancer and many other diseases are abnormally high among the 25,000 residents of Lassen County. The presence of the Sierra Army Depot was already a major issue for the residents.

Later, when Paul and others confronted the military with the contract, their only answer was, "We don't dispose of it. We store it, then send it to another facility."

"Given the nature of this facility, no one believes that."
"Yeah. No one doubts that they're spreading chemically toxic and radioactive substances into the lake and all over this area." Taking turns expressing their distrust of the military, Paul and Kinberly gazed wistfully down through a beautiful pine forest toward the sparkling lake.