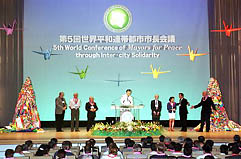 The Fifth World Conference of Mayors for Peace Through Inter-City Solidarity opened on August 4 at the Hiroshima International Conference Center in Naka Ward, Hiroshima City. The theme of the conference is "In Order for Humankind to Live through the 21st Century - Toward Reconciliation between Humankind and Science and Technology -" For six days through August 9, the conference will meet in Hiroshima and Nagasaki, the two cities where A-bombs were dropped, to discuss the roles cities and citizens play in realizing a peaceful world devoid of nuclear weapons.

Approximately 220 people participated from 63 cities and two non-governmental organizations (NGOs) from 28 foreign countries and 44 municipalities in Japan. Almost 400 local citizens also participated in the conference, which was fully open to the public for the first time.

As the Chairman of the World Conference of Mayors for Peace, Mayor Akiba Tadatoshi of Hiroshima City gave a speech in English at the opening ceremony. "The 20th century was an era of war. We hope to make the 21st century a century of peace and humanity. We must not forget that cities are expected to play an important role towards that goal," he said.

In a special lecture, Professor Emeritus Morishima Michio of London University said, "In the 21st century, we must transcend the interests of ethnic nationalities and act to protect the earth," calling for actions based on global thinking.

After the opening ceremony, the participants visited the Peace Memorial Museum, where they saw the true picture of the damages caused by the use of the first A-bomb. They left the museum with renewed resolution to abolish nuclear weapons. The participants also offered flowers to the A-bomb Memorial Cenotaph to pray for the souls of the victims.

One of the features of this year's conference is to expand the participation of citizens through measures such as opening the conference to the public. Eight local NGOs engaging in international activities set up booths at the conference site. They display photographs and show videos of their activities to familiarize their organizations to the participants for 3 days.

(caption) Mayor Akiba (center) and others on the stage at the opening ceremony.