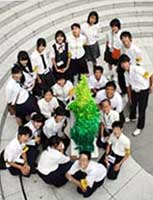 On August 6, 1945, an atomic bomb was dropped on Hiroshima, the first nuclear attack in human history. Well over 60 years have passed since then. The average age of the atomic bomb survivors is now nearing 80 and the children of today will be the last generation able to hear their accounts of the bombing firsthand. In order to reflect on the preciousness of life and peace, Peace Seeds, a newspaper produced by Hiroshima teens, was launched in January 2007. Published twice a month in the Chugoku Shimbun, each two-page issue appeared on the front and back of a single insert.
Peace Seeds was published for more than five years, until February 2012. During this time, a total of 63 junior writers, ranging from the fifth grade of elementary school to the third year of high school, were selected from the community and became engaged in a wide variety of activities. As examples, Peace Seeds reporters conducted surveys of visitors to Hiroshima Peace Memorial Park every August 6, the anniversary of the atomic bombing; helped arrange the APEC Junior Conference; interviewed such well-known figures as Ban Ki-moon, the secretary-general of the United Nations, Hayao Miyazaki, the acclaimed director of animated films, and Shigeaki Hinohara, the head of St. Luke's International Hospital; and organized a special exhibition on Peace Seeds at the Japan Newspaper Museum in Yokohama. A book and DVD about Peace Seeds were also produced, and information on Peace Seeds appeared in a social studies textbook for the fifth grade of elementary school. In all, 107 issues of Peace Seeds were published.
The Junior Writers now continue their efforts for peace along different paths, hoping these paths will cross again one day in the future.