【A Letter to you from Hiroshima】
---
A Message for Peace
A Letter to you from Hiroshima
For an Earth Free of Nuclear Weapons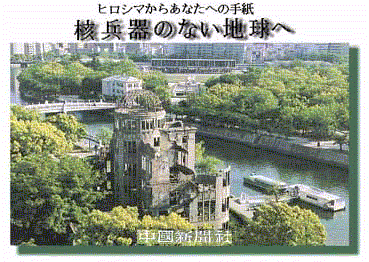 The Chugoku Shimbun
---
 The Chugoku Shimbun, a Hiroshima-based daily newspaper, has written this "Letter"to young people as one of our projects to commemorate the 50th anniversary of the atomic bombing, in order to give the true picture of the A-bombing so that the lessons to be learned from it will be passed on to the next generation. We hope that this letter will help young people visiting Hiroshima to learn exactly what happened here on August 6, 1945, and that they will be able to make use of the knowledge as they live into the 21st century.
 For over half a century, the Chugoku Shimbun, while keeping records of what A-bombed Hiroshima endured, has continued to send heartfelt peace messages to the world. In the light of our experience here, we have also kept observing and covering the unceasing nuclear arms race menacing the post-war world, and in our reports we have warned that such developments are jeopardizing both the global environment and our human existence.
 This "Letter" is based on "For an Earth Free of Nuclear Weapons," a booklet compiled by the Chugoku Shimbun using our expertise accumulated through our fifty years of reporting on the A-bombing and on other peace issues. In addition, Newspaper In Education (NIE) has been set up to promote the use of newspapers in school education. We hope that this "Letter" will be used as teaching material for peace education and that it will serve as an aid in establishing a dialogue between young people and Hiroshima.
---
---