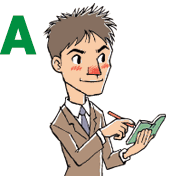 The effects of radiation and heat still linger
The term "A-bomb disease" is often heard in the news. To learn more about these illnesses, I visited Katsuaki Aoki, the director of Hiroshima Kyoritsu Hospital. This hospital provides weekly counseling with regard to A-bomb disease for outpatients. Mr. Aoki told me, "A-bomb disease is not a single specific disease." I was puzzled and he added, "A-bomb disease implies a variety of diseases influenced by the radiation and heat from the atomic bomb."
Cancer is the most common disease
What kinds of diseases are considered A-bomb disease? Nanao Kamata, 72, is professor emeritus of Hiroshima University and has been involved in the care of atomic bomb survivors for many years. An expert on blood, he told me that seven diseases have been officially designated as A-bomb disease: malignant tumors, leukemia, hyperparathyroidism, radiation cataracts, myocardial infarction, hepatic function disorder, and hypothyroidism. In addition, microcephaly, the consequence of exposure while in the mother's womb, and keloids are A-bomb-related conditions, too.
The most common disease among these illnesses is cancer. It has become clear that 12 types of cancer, including leukemia, thyroid cancer, and breast cancer are induced by radiation.
The term "atomic bomb disease" was said to be first noted on a health report dated September 12, 1945, about a month after the atomic bombing by the medical division of the Japanese Imperial Army. The report called such acute symptoms as vomiting and diarrhea, which were widespread after the bombing, "atomic bomb disease."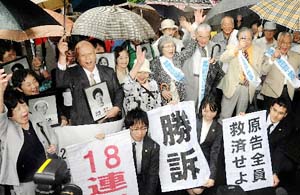 Plaintiffs and their supporters welcome the Tokyo High Court decision which recognized nine plaintiffs as having "A-bomb disease." (May 28, 2009)
About three years after the bombing, there was a spike in the number of leukemia patients. Since then, many cases of thyroid cancer were found in survivors in their 50s, and lung cancer and breast cancer were often observed in survivors in their 60s. Professor Kamata stressed, "Because their body's genes were damaged in the bombing, this has resulted in disease even decades later. This is the most striking characteristic of the damage caused by nuclear weapons."
Both Professor Kamata and Mr. Aoki point out that a survivor often develops different types of cancers, not only one type. Mr. Aoki added that "Survivors who were exposed to the atomic bomb in their youth have a greater likelihood of developing cancer. Survivors feel strong anxiety about their health."
The Japanese government maintains a screening process to certify A-bomb survivors who have developed diseases due to radiation from the atomic bomb. The government then provides special medical allowances to these patients for their treatment. However, statistics up to 2007 show that only around 30% of survivors who applied were certified. The main reason is that the influence from ingesting radioactive particles has not been considered a factor in A-bomb disease. To change this aspect of the certification system, groups of A-bomb survivors have filed lawsuits against the government.
More than 8,000 survivors have applied
Rikito Watanabe, 83, the head of a group of Hiroshima citizens supporting the suits, looked into 23 students from Miyoshi Girl's High School who entered Hiroshima 13 days after the atomic bombing for relief work. He found that 13 of them had died as of December 31, 2005, making their survival rate much lower than that of other women of the same age. And most of them died of cancer. "The problems caused by the atomic bomb continue to this day," he said. This is what drives Mr. Watanabe to offer his support to the lawsuits.
To date, the plaintiffs have won 19 cases. As a result, the government modified the certification criteria in April 2008 and began the process of recognizing survivors who were exposed to the atomic bomb within 3.5 kilometers from the hypocenter or entered the hypocenter area within the first 100 hours and have subsequently developed one of seven kinds of diseases, including cancer. In August 2009, a settlement was reached between the A-bomb survivors and the government, specifying that money would be paid to those plaintiffs who had lost their claims.
More than 8,000 survivors have so far applied for A-bomb disease certification. Mr. Aoki insists that "All survivors holding the Atomic Bomb Survivor Certificate should be certified." (Kensuke Murashima, Staff Writer)
Note: This is the final article in the series "Q&A about Hiroshima."