The Lives of Pets, Part 1 -Concerns of public facilities

Saving the lives of 270,000 dogs and cats
As many as 270,000 dogs and cats were put to death in fiscal year 2008 at public health centers and animal management and welfare centers in Japan. These animals were brought to such facilities for a variety of reasons, including: "It was hard for us to keep so many babies"; "A stray cat gave birth to a lot of kittens in my yard"; and "We're not allowed to have pets in our new place." In addition, there are lost pets without identification tags, so they can't be returned to their owners.
Pets can add to the enjoyment and relaxation of the owners' lives, but some wind up being killed because of their owners' decisions. The staff of the facilities where these pets go feel bad about putting these animals to death.
We would like the lives of pets to be cherished, like the lives of human beings. With such a wish, one local government is working to reduce the number of animals put to death and eliminate the killings entirely. The first step toward supporting this goal is to become informed of the current circumstances and feel greater concern with regard to the lives of pets.
Vet feels distress over putting animals to death
Owners for 1,550 animals not found in Hiroshima City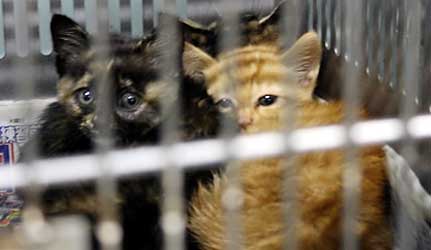 Kittens held at the Hiroshima City Animal Control Center. (Photo by Minako Iwata, 17)
The Hiroshima City Animal Control Center takes in dogs and cats that are abandoned by their owners as well as stray dogs and cats. In fiscal year 2009, the facility took in 395 dogs and 1475 cats. In many cases, a pet had a litter of babies and the owner was unable to find people to adopt them. About 70% of the cats were kittens from just a few days to a few months old. There were also many instances involving stray cats giving birth to kittens in people's yards.
In some fortunate cases, new owners are found or volunteer groups step up to temporarily care for some of the animals, but most are put to death. In 2009, 147 dogs and 1403 cats were euthanized.
Animals in such facilities are put to death once a week. Dogs are maneuvered into an elevator via a moving barrier and then conveyed to a closed room, where they are suffocated by pumping carbon dioxide into the enclosed space. With kittens, a veterinarian gives a fatal injection.
I heard that one veterinarian, distressed by the experience, remarked, "I became a vet to help save animals. Why must I put them to death?" (Mei Yoshimoto, 14)
Cooperation with citizens / Caring for pets until new owners are found
Center in Kumamoto nears target figure of zero killed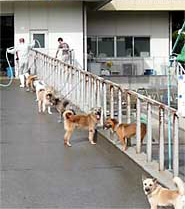 On sunny days in Kumamoto, dogs spend time outside of their cages. (Kumamoto City Center for Animal Shelter)

The city of Kumamoto has set a goal of reducing the number of animals put to death to zero. In fiscal year 2009, Kumamoto euthanized just one dog and six cats, apart from those that died of disease, so the number is approaching the target figure.
According to Mutsuko Murakami, 50, an administrator at the Kumamoto City Center for Animal Shelter, the key is creating cooperation with local citizens. In the past, the center and residents of the city did not work together to reduce the number of animals put to death. However, the center's frank disclosure of the actual conditions surrounding the animals it takes in and how those animals are killed spurred a mutual understanding.
In 2002, residents and the center, joined by veterinarians and others, founded a committee to promote caring for these animals and this group is engaged in such activities as holding meetings to seek new owners and maintaining an effort called "Community Cats" in which members of the community care for stray cats. The group also raises funds through charity bazaars and solicitation to assist with the costs of operations involving contraception and castration.
For owners who bring their pets to the center because they want to give them up, the center tries to persuade these owners to continue caring for their pets by reminding them of the feelings they had in the beginning when they first took in their animals. In cases when an owner goes into the hospital or a nursing home or a pet has a litter of babies, the center will ask the owner to seek out relatives or acquaintances who can take in the pet or search for a new owner by placing a notice in the newspaper. For owners worried about a barking dog, introductions are made for a dog trainer.
Such measures have borne fruit. The number of abandoned pets taken in by the center has dropped from 407 in 1999 to just 18 in fiscal year 2009.
When the center does take in a dog or cat, they care for the animals and value their lives. Before, they would put as many dogs as would fit in a cage, but now each cage holds no more than six. During the day, the staff removes them from the cages, secures them outside with leashes, and takes them for walks around the grounds. The dogs are given their own names, too.
Each cage bears a sign with pictures of every dog and cat, their age, their gender, and personality. This includes details on habits like biting or treatment being received for illness. Such information is geared for prospective pet owners looking to adopt an animal. If a dog is aggressive, the staff will train it to be better behaved. For kittens and puppies, there are volunteers who care for them and feed them milk every few hours.
The center provides care for the dogs and cats until new owners can be found. In the longest case, a dog has been at the facility for a year and a half. Even for old or sick pets, the staff will look for an owner. In one instance an elderly woman visiting the center adopted an old dog because she wanted a pet that would die before she did.
In 2009, the center received 453 dogs; 189 of these were able to return to their owners while 222 went to new owners. Regarding cats, of the 268 cats taken in, 220 found new owners. We hope that other local governments will provide the same sort of kindness toward dogs and cats as the city of Kumamoto. (Seira Furukawa, 17)
| | |
| --- | --- |
| Community Cats | A group which shares responsibility for the care of stray cats. The group arranges operations for the cats involving contraception or castration to control the number of cats and determines places for feeding. The members take care of cleaning up leftover food as well as feces. |
The measures taken by the city of Kumamoto to eliminate pets being put to death have brought good results. In the case of Hiroshima, a city with a larger population compared to Kumamoto, the number of people who become new owners of such animals is smaller. But thanks to the efforts of a group of volunteers, which is helping to find new owners, the number of animals being put to death has gradually been decreasing.
In Hiroshima, many of the kittens that are taken in following their births die due to malnutrition or other causes. These cases are included in the recorded deaths of cats. However, in Kumamoto, after volunteers began caring for the kittens and feeding them, they survived to be adopted by new owners. This has contributed to the reduction in the number of deaths of cats in that city.
Taking responsibility for animals' lives縲€

The center in Hiroshima Prefecture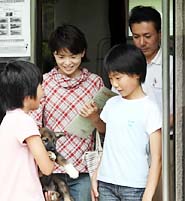 A family adopts a puppy after attending the guidance course at the center. (Photo by Yuka Iguchi, 14)

The Hiroshima Prefectural Animal Management and Welfare Center in the city of Mihara permits adoptions of dogs and cats after the health and personality of each animal has been checked. In fiscal year 2009 they handed 147 dogs and 22 cats to new owners. For people who want to adopt a pet, they provide guidance in the form of a course.
Still, more than 95% of the dogs and cats that the center received in fiscal year 2009 were put to death. To euthanize one grown dog costs about 2,000 yen. In order to reduce the number of animals put to death, the center is considering the idea of charging owners a fee for leaving their dog or cat at the facility.
The cost is high, too, to raise a pet. Roughly 3 million yen is needed to care for a dog from its birth to its death. And keeping a pet takes time as well, for walking and training the animal. A dog's average life expectancy is about 15 years. Prospective pet owners should give serious consideration to whether they are able to care for the animal well. The head of the center, Osamu Matsumoto, 56, insists that people be aware of their responsibility in assuming care of an animal's life. (Yuka Iguchi, 14, and Sachiko Kitayama, 14)
Five prefectures in Chugoku region set targets for animal welfare, in line with law


In order to respect the lives of pets and other animals, the Law on the Protection and Control of Animals was established in 1973. In 2005 it was revised to prevent the abandonment and abuse of animals.

縲€Based on the revised law, guidelines were created in October 2006. These guidelines require the governments of each prefecture to form a plan to promote the protection and control of their animals and set specified targets for a ten-year period from 2008. Hiroshima Prefecture's plan includes the goal of reducing to half the number of dogs and cats that are put to death.

縲€The impact of revising the law and setting the guidelines has not yet been clearly seen. Makio Takahashi, 52, of the Rangers for Nature Conservation of the Wildlife Division of the Chugoku-Shikoku Regional Environmental Office, says, "One way involves fixing serious penalties, but every citizen needs to have the moral sense not to abandon or abuse animals." (Yusuke Suemoto, 14)


Plans to promote the protection and control of animals, toward a target year of fiscal 2017, set by five prefectures in the Chugoku region
Hiroshima
Reduce number of dogs and cats put to death--13,087 in fiscal 2006--to half

---

Yamaguchi
Reduce number of dogs and cats put to death--8,125 in fiscal 2006--to half

---

Okayama
Reduce number of dogs and cats taken in due to abandonment by owners to half; Reduce the percentage of animals put to death--95.4% in fiscal 2005--to 90% or below

---

Shimane
Reduce number of dogs and cats taken in--5,593 in fiscal 2005--to 2,500 or below by fiscal 2012 and 1,750 or below by fiscal 2017

---

Tottori
Reduce number of dogs and cats taken in due to missing owners or abandonment by owners--2,973 in fiscal 2006--to almost half, 1,500
"Hiroshima" includes the cities of Hiroshima, Fukuyama, and Kure; "Yamaguchi" includes the city of Shimonoseki; "Okayama" includes the cities of Okayama and Kurashiki.