Map showing scars of the atomic bombing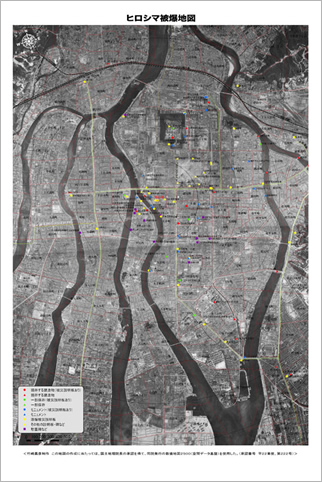 This map was created by superimposing a map of present-day Hiroshima over aerial photos taken five days after the atomic bombing which depict the bombed ruins of the city. A total of 11 locations are shown on the map, including existing A-bombed buildings, memorials and monuments built by schools and groups, and municipal plaques describing the damage caused by the bombing, as well as city districts and city blocks.
The map was created in 2010 by Yoshihiko Takesaki, a specialist in geography and a member of a Hiroshima City study group involving the A-bomb materials of Hiroshima Peace Memorial Museum. The aerial photos, which provide detailed images of the devastated city, were taken by U.S. forces from an altitude of about 7,500 meters on August 11, 1945. These photos, nearly 23 centimeters by 46 centimeters each, were then digitalized. With the use of the Geographic Information System (GIS), the digitalized photos were superimposed on the coordinates of Digital Map 2500 (Spatial Data Infrastructure), published by the Geospatial Information Authority of Japan (GSI).
The estimated death toll due to the atomic bombing by the end of 1945 stands at 130,000 to 150,000. The map sheds light on part of the calamity wrought by the atomic bombing, which flattened and burned 43,340 buildings to ashes within about a two-kilometer-radius from the hypocenter alone.
<Created by Yoshihiko Takesaki. In producing this map, Digital Map 2500 (Spatial Data Infrastructure), published by GSI, was used with the approval of the GSI Director General. (Authorization number: Heisei 22 Gyoshi, No. 222).>

Map showing scars of the atomic bombing
(PDF/7931KB)

Adobe Reader is needed to view PDF files. Download
AdobeReader
for free.