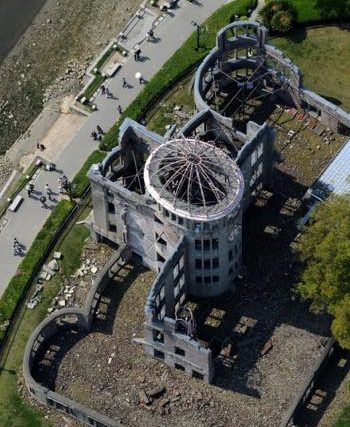 The Atomic Bomb Dome is the most visible symbol of the "negative legacy" of the 20th century, known as the nuclear age. The Hiroshima Commercial Exhibition Hall, as it was originally named, opened in 1915. The three story, Western-style brick building was designed by Czech architect Jan Letzel and had an oval-shaped dome.
By the time of the atomic bombing, on August 6, 1945, the building had come to be called the Hiroshima Prefectural Industrial Promotion Hall. Because it stood just 160 meters from the bomb's hypocenter, all those inside the building at the moment the bomb exploded perished instantly. The dome itself, however, miraculously survived the tremendous blast that roared down from above the building. After the war ended, the citizens of Hiroshima saw the building's remaining iron framework and walls still standing amid the devastated city and, from that point on, it was called the Atomic Bomb Dome.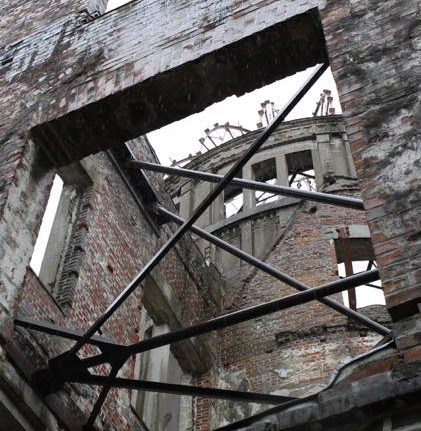 The Atomic Bomb Dome was registered as a UNESCO (United Nations Educational, Scientific and Cultural Organization) World Heritage Site in 1996 under the name "Hiroshima Peace Memorial," which led to this structure becoming a monument through which people could widely express the wish for world peace, rather than merely being emblematic of the damage caused by the bomb.
After the war, many of the buildings that were destroyed by the atomic bomb were demolished during the reconstruction of the city. Why, then, has the Atomic Bomb Dome survived? One factor that led to its preservation was the existence of a diary kept by Hiroko Kajiyama, a high school student who died of A-bomb-induced leukemia 15 years after the bombing. She wrote in his diary: "Only the tragic Industrial Promotion Hall will forever continue to tell future generations of the catastrophic atomic bombing." Students inspired by her words then launched a signature drive to preserve the building, and the Hiroshima City Council eventually passed a resolution requiring that the dome be preserved.
Now, however, the City of Hiroshima is facing the very difficult challenge of continuing to preserve the fragile structure. And in addition to the work carried out to date to prevent the dome from further deterioration as a result of the elements, the city has been pursuing reinforcement work that can enable the Atomic Bomb Dome to withstand a major earthquake. The City of Hiroshima is committed to preserving the Atomic Bomb Dome in its current condition and style without adding any roofing to protect the building.