Tenjin-machi Minamigumi: Mourning for a neighborhood that once lay along Peace Boulevard
Jul. 16, 2008
by Masami Nishimoto, Staff Writer
(Originally published on December 15, 1998 in the series "Record of Hiroshima: Photographs of the Dead Speak")
Peace Boulevard extends for nearly four kilometers, east to west, through the heart of Hiroshima, a coastal city built on the delta of the Otagawa River. Together with Peace Memorial Park, this street symbolizes Hiroshima's recovery from the ashes of the atomic bombing and its pledge to promote everlasting peace. Along the western bank of the Motoyasu River, where Peace Boulevard crosses today's Peace Bridge, there was once a neighborhood known as Tenjin-machi Minamigumi.
Tenjin-machi was part of the Nakajima District, Hiroshima's largest commercial center before the war. Since the Edo Period (1603-1867), the area had been known as Tenjin-machi after "Tenjin-san," the local nickname for Tenmangu Shrine, which was located there. Also in the area were a Buddhist temple, wholesalers, retail stores, clinics, and rental houses, mostly clustered along a long street leading to the prefectural government office in the southern part of Tenjin-machi.
Tadashi Watanabe, 71, once lived near the boundary of today's Peace Memorial Park and Peace Boulevard and was orphaned by the bomb, losing six members of his family. "We had been living in a house in another district, but it was about to be dismantled to make fire lanes," explained Mr. Watanabe. "So my mother moved us back to my father's old house in Tenjin-machi Minamigumi, just two days before the bombing. Even after I began working as a city official, I tried to find reason to be away from Hiroshima on August 6."
As part of preparations for all-out war, some buildings in Tenjin-machi Minamigumi were also being demolished, starting with those closest to the prefectural office. Tadae Fujii, 82, recalls, "We managed to find a house for rent in another neighborhood and the five of us moved in." But when the bomb struck, her three-year-old son was killed.
The third- to sixth-grade students of Nakajima Elementary School had been previously evacuated to a temple in the northern part of Hiroshima Prefecture. There, the children were told that Hiroshima had been totally destroyed. A 63-year-old man, who was in fourth grade at the time, recalls that "Autumn came, but my parents still hadn't come to pick me up. Finally, I went back to the city and just wandered among the rubble of my old neighborhood and the wreckage of my school." He and his two siblings were known as "A-bomb orphans," children who suffered great hardship in the years that followed.
Former resident Shigeru Kameishi, who died in 1979, devoted himself to erecting a monument in memory of Tenjin-machi Minamigumi. The Chugoku Shimbun's investigation began with the records that Mr. Kameishi had kept and was conducted with the support of bereaved families who faced grim adversity in those years. We obtained information on 91 deceased residents in total, including 88 who died in 1945, one in 1946, one in 1947, and one in 1952. We found photographs of 68 of those people.
In addition, we received
Testimonies by a Father and his Older Daughter.
The man's younger daughter, 13 years old, had been mobilized for demolition work near the prefectural office and died in the bombing. On that day, students and other workers assembled in the area around today's Peace Memorial Park and Peace Boulevard to engage in this wartime effort.

Nakajima-cho, reduced to ashes. This photograph was taken near the west bank of the Motoyasu River, about 600 meters from the hypocenter, in the area of today's Peace Memorial Park and Peace Boulevard. The debris in the immediate foreground lies in Tenjin-machi. The fallen gravestones probably mark the location of Keizoin Temple in Zaimoku-cho. In the distance is the building that has become known as the A-bomb Dome. To its right is the former Fuel Hall (now, the Rest House), and to its left is the former Hiroshima Chamber of Commerce and Industry Building. The building at the left edge of the photo is the Hiroshima branch office of Nippon Kan'i Kasai Insurance Company, located in Nakajima Honmachi. To its right stands the concrete shell of Honkawa Elementary School. (Photo taken around November 1945 by the U.S. military)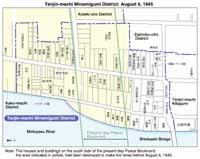 Tenjin-machi Minamigumi